Want to prevent pregnancy stretch marks?
There are lots of gimmicks out there claiming to prevent pregnancy stretch marks. They promote this MIRACULOUS solution claiming that it WILL WORK...I am here to tell you that I did not buy into those rediculous gimmicks and I did not get any stretch marks with my first pregnancy. Now some may say "well you were just lucky."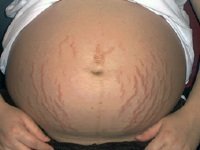 Preventing pregnancy stretch marks comes down to three things:
Your skin's natural elasticity
Your dilligence to moisturize your belly multiple times daily.
Drinking lots of water to keep your skin moisturized from the inside out!
Your skin's natural elasticity
Your dilligence to moisturize your belly multiple times daily.
Drinking lots of water to keep your skin moisturized from the inside out!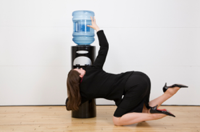 so yes..there are things you can do to help REDUCE the potential for pregnancy stretch marks!
BUT...pregnancy stretch marks are not 100% preventable! There are many lotions and creams advertising such nonsense! It is misleading and it only serves to disappoint you when you try your hardest not to get them...only to end up with some!
If stretch marks run in your family, chances are you may end up with some. For others, they developed stretch marks despite not having them run in their family.
If you stick with hydrating your body through drinking water and applying moisturizers you are really doing all you can do to prevent those preganancy stretch marks.
Suggested Products...
For me, I used two things. First, I used the Cocoa butter Moisturizing Stick from THE BODY SHOP. My sister gave me the last half of her bottle and claimed it was the best stuff she'd ever tried. I was skeptical at first because I didn't want to get addicted to any product where I would have to pay to get some more!
BUT...it was great. What I liked about it was:
it was easy to apply. It is in a stick (almost like a tall tube of deoderant) and so i didn't have to get my hands all messy applying it
it was a bit waxy which allowed it to stay on all day without having to apply numerous applications.
I did not have to wait for it to dry before getting dressed. It stayed on from the moment of application until i showered.
the bottle lasted a long time. One bottle will do you for your entire pregnancy!
It was reasonable in price. ($14.00 CND)
The second thing I used after getting out of the shower and before bedtime was a lotion. Mine happened to be a lotion called
Georgian Bay Lotion
that my grandpa has made locally since the 1980's. It's an amazing lotion that is not greasy, very hydrating, leaves skin feeling very very smooth, is unscented, and is also very reasonable in price. I also like it because my gramps made it!
I did get stretch marks...
When I was pregnant with my second child, I was almost too busy to apply Grampa's Lotion or the Cocoa Butter Stick from The Body Shop. I did not make a point of drinking the required amount of water to ensure my body was hydrated. I got lazy, and a bit cocky. I guess I started to think that I just wouldn't get pregnancy stretch marks. Plus, I figured with my second baby, my skin was used to being stretched out a bit.
Was I ever shocked when about a week before my delivery date I saw 2 tiny stretch marks. Yes, they were tiny, but they were there! I was so angry at myself for being lazy. I am telling this to you so that you don't have to make the same mistake.
With time they do fade...
...from a deep purple or red into a silver colour that can be seen only in certain light. After care for your pregnancy stretch marks should consist of rubbing Vitmain E ointment or cream onto the stretch marks. I was always told that the Vitamin E was a healing ointment for scars. I have used it for years for other scars, and cuts. Recently though, I was told that Vitamine E is not only an ointment that heals, but it is the actual rubbing of the scar that promotes it's healing. Very cool eh?!

Click here to return from pregnancy stretch marks to the pregnancy and baby boutique home page
Click here to return from pregnancy stretch marks to pregnancy side effects