So you think you might be pregnant?
You probably have so many questions about your pregnancy and baby floating around in your head. Don't feel overwhelmed. This is a time to be excited not stressed! Just grab a paper and a pen and start writing all those questions down!
"Never feel like your questions are stupid because there are no stupid questions."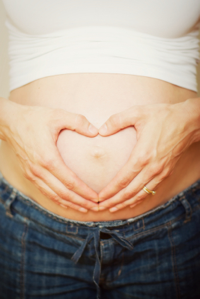 Am I pregnant?

What vitamins am I supposed to take?

When will I stop feeling so barfy

When do I go to the doctors?

What is an ultrasound?

What can I do for my varicose veins?

What other side effects can I expect?

Is that a varicose vein?



These and other questions are simply natural as you enter into this new stage of your life. I don't regret the time I spent finding out answers to my pregnancy and baby questions!
During my own pregnancy, I did a ton of research on just about every topic I could think of BUT... despite this time consuming research I found out (after my baby's birth) that there were lots of things I did not know about and was not prepared for. There were many things I wish someone would have told me.
The Pregnancy and Baby Boutique will provide YOU with all the information I have found from my own research and personal experiences. I want to share with you all the things they just don't tell you in prenatal classes.
I want to provide you with EVERYTHING you could ever want to know about your pregnancy and your baby all on ONE WEBSITE! This will cut your own research time.

This is also home to the new baby and maternity clothing line called"Ma&Me". This is a unique line of clothing designed specifically for moms who want to dress their kids and themselves in something a little different than what everyone else has on! No two pieces of clothing are the same! Be sure to check it out! New clothing items are put up all the time.
Have a beautiful pregnancy!
"...you knit me together in my mother's womb. I praise you because i am fearfully and wonderfully made; your works are wonderful, i know that full well...your eyes saw my unformed body. All the days ordained for me were written in your book before one of them came to be. How precious to me are your thoughts about me, O God! How vast is the sum of them! Were i to count them, they would outnumber the grains of sand."
Psalm 139
Join me on this amazing journey as I tell you all the ins and outs of my current pregnancy!
wondering if you are pregnant? Do you have any of the first month pregnancy symptoms? Read through the top 10 pregnancy signs.
juli
Looking for solutions to your pregnancy side effects? List of potential pregnancy side effects.
information on your baby's growth week by week. Information on what to expect during your entire pregnancy week by week
Get rid of your morning sickness!! Try one of these morning sickness cures to help your nausea!
Wondering what is going on during the first trimester? You will learn a lot about what to expect during your first trimester.
Wondering what happens to your body and your baby during the second trimester? Find out how to get through it all.
Wondering what awaits you and your baby during the third trimester. It's amazing what is going on with both of you.
pregnancy brain
Solutions to prevent pregnancy stretch marks!
Sick of peeing all the time? Frequent urination can be your body's way of preparing you for some sleepless nights up ahead! of
Are you pregnant and spending most of your spare time obsessively cleaning?? You are nesting. Find out how to curb that urge to clean! Find out how to limit your pregnancy nesting.
Are you suffering from those unsightly varicose veins caused by pregnancy? Solutions to help you prevent and treat your pregnancy varcose veins.
Bleeding gums during pregnancy?? Don't worry...you are probably not suffering from some gum disease, rather just a common side effect of being pregnant. very sensitive
Are you developing a receding hairline after the birth of your baby? Pregnancy hair loss in women is normal!
Wondering how to capture your pregnancy on a budget and still get pregnancy pictures that will last a lifetime?
Tired of that frumpy maternity clothinig you have? Ma & Me has one of a kind maternity wear for your pregnancy. How to shop for maternity clothes.
Confused about baby clothes and their sizes? Find answers to all your baby clothes questions!
Don't sleep on your back during pregnancy!! Pregnancy pillows can help you do just that! Read up on the benefits of the pregnancy pillow.
newsletter
The creator behind the Ma & Me clothing line
contact me page
Would you like to share your knowledge about pregnancy? Great, find out how you can submit your story or tip here.