Pig races and Big bellies!
ok... well my belly isn't that much bigger..but I am noticing a difference. Could be cause of the 20 pounds of turkey I've ingested over the last 4 days or...maybe it's the pregnancy! Pants are still fitting me...phew! I am thankful for the low style of jean that is in style because they still fit despite my growing belly.
I am finding that bending down is getting a bit more difficult! Thank goodness I have slip on shoes.
Today, I actually had a few moments to myself as my one daughter was in preschool and the other was enjoying her first day back at her library club.
I used the time to try and catch up on about 4 months of journal entries in not 1...not 2..but 3 journals. (I am trying to write in all my babies' journals so that they and my husband and I have something to look back on to help us remember all the tiny things in our days that we have grown to love)
Thanksgiving was awesome! My parents drove up to see us which was great because we hadn't seen them since end of summer! My daughters were super-oooober excited to see them. They didn't get in till about 3am on the friday nite/sat morning but they stayed till late sunday afternoon.
On saturday we went to a local ranch. It was awesome. We rode on a wagon, picked our own pumpkins, watched some pig races, watched my daughter maddie in a pig race, and much much more.
Back to my daughter and the pig race. I was so proud of her to even want to be in this race. They asked for 4 volunteers who were 4 years old to run a race around the same track that the pigs just ran around.
My husband Nic took maddie around to the starting line and to my amazement Maddie was quite happy to be in this race. I think she feels very brave when her daddy is there with her. That's awesome! So she got a fake pig's snout put around her head over her nose, a cute pipe-cleaner tail pinned on her back, and was then herded into the pig pen stall to await the start of the race.
Maddie is an excellent runner as we found out this summer at the annual church picnic. (She cleaned up on the ribbons!)
Maddie waited for the starting bell and then took off...a few strides behind a girl who, I'll admit, cheated by starting before the bell....
You should have seen the determination on maddie's face as she rounded our corner. She was determined to catch that cheater! She never did...but honestly...I am sooo super proud of her...!I honestly wanted to cry.
She got a medal and a treat to eat...which she shared with her little sister aidy.
It was a great day. A really great day.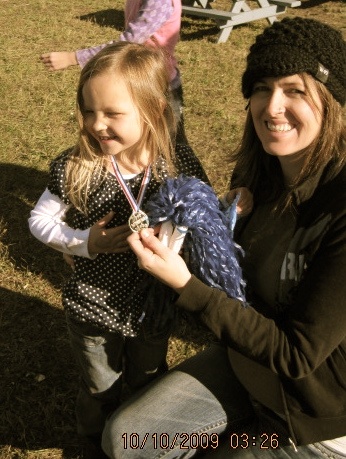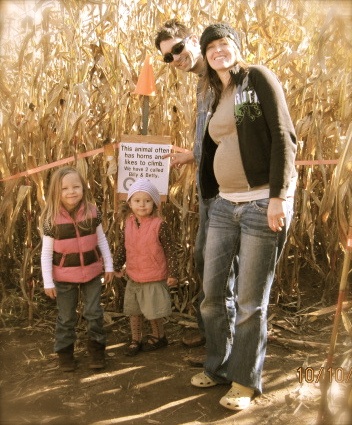 Days are slipping by...can you belive that it's almost november...ok ok ok...it's only mid-october...but all around me I see advertisements for November stuff. I had better get that Christmas list out pronto!!!
Does this mean I have to buy stuff for the new baby too if it's not expected till after Christmas? Who will get to open all of the baby's gifts???! As if we won't buy the baby gifts!
Well...this weekend coming up is going to involve some horseback riding? (no no no...not for me ...for my kids and hubbie and the youth from our youth group at church).
I am guessing that I need to schedule in some naps for me over the next few days...because hanging out with our youth group teens all weekend will probably involve a lack of the zzzzzzz's. Can't wait!!!
I am 26 weeks right now...wow...not that long to go! Time is sure flying!
Till next time....this preggo mama is going to take a much needed snoooooooze!
Varicose veins are a major pain....
This is week 24 and this week I experienced the worst varicose vein pain i've ever felt. I was standing up making dinner yesterday night and almost busting out in tears because of how throbbing painful the veins in my leg were.
I wanted to sit down but had to get my sweet patient kids fed. I did take a 2 minute break while the spaghetti was cooking and lay on the couch with my legs resting up on the wall! This was to help relieve my leg of the pooling blood in my veins and relieve some of my pain.
Unfortunately the dinger went on the stove and my 2 minute break was over. I was back on my feet and fighting back tears!
I have mentioned on this website about varicose veins and how painful they can be and have given some tips about how to prevent and treat them. These tips have helped me greatly...but sometimes the veins have a mind of their own!
This third pregnancy has really increased the size and the pain level of the varicose veins in my leg. I have a doctor's appointment at then end of this month to get a prescription for a full leg stocking. (Yes, that is those cheezie looking tight socks that older women wear)The reason I am waiting for a prescription is because of the tremendous cost involved in getting these stockings. The half leg stockings (up to knee) are about $150.00. Isn't that insane? I can only imagine how much the full leg stocking costs!
Style or cost do not matter to me at this point... I am just desperate to rid myself of this pain!!
So...that appointment isn't for another few weeks and until then I will continue to use my tensor bandage.
Another things for me to think about is the possibility of a blood clot. Now I was fully aware of what a blood clot was but I had forgotten that having varicose veins increases the possibility for me. My midwife gave me some warning signs to look for:


red area around the varicose vein
very warm/hot on the varicose vein area itself
a swelling in the leg that has the varicose vein in comparison to the other leg
This was a scary but good list to have. So for all of you who have similar discomforts with pesky varicose veins...keep this list in the back of your mind and keep an eye on your veins.
I had some friends pray for my leg yesterday because of the intense pain I was experiencing. There was nothing I could to to help things feel better in my leg...I am happy to report that
the veins did not bother me once today
....NOT ONCE!! I am thankful for my friends who uplifted me and my leg in prayer. God is good!
I believe in a God who truly cares about both the biggest and the littlest of things in each of our lives...even pesky varicose veins!



23 weeks , 2 days and counting...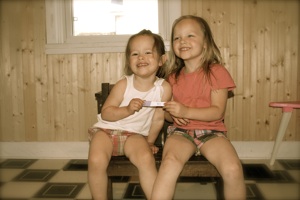 Well...sorry it has taken me so long to FINALLY get this blog up and running. I have basically spent the last 23 weeks running after my 2 beauties who are 4 and 2 .5 years old. They keep me busy in addition to all the other stuff going on in life!
My third pregnancy came rather quick after my husband's amazing return home from his 8 month tour with the military! He calls it the night of the "glorious reunion"...(he did actually tell my mom and dad that exact line). We did get pregnant right away which was the ideal but certainly not expected!
How we found out....
We were sitting out on our deck in late april when I decided to jump up and go to the grocery store to buy a pregnancy test because I just HAD to know that moment if I was pregnant. I expected my period that day and by 2 pm it hadn't come yet!
I got the pregnancy test, read the directions (as if the instructions had changed in 2 years ha ha...) It's funny how I always read both sides of the directions before taking the test as if "peeing on a stick" could get any harder!
As I placed the pregnancy stick down on the counter to let it "settle for 2 minutes"...I happened to catch a glance of a pink plus sign. I quickly ran out to the kitchen in a panic and grabbed the directions to read again. My husband Nic said, "what? do you not know how to work that thing?" I told him I just had to check something again! He followed me into the bathroom this time and said, "no...you aren't pregnant"...! and I said, "babe I don't know".
My reaction...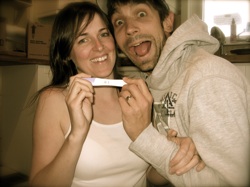 We then both stood there in silence excitedly waiting the 2 minutes. Then we turned the stick over and there was the big ol' pink plus sign that definitely marked the spot!
Nic was the first to yell with such excitement "you're pregnant!"
I don't remember what I said but I do remember my reaction. I said..."that's crazy, i'm pregnant"....then I started to cry! I cried because I was entirely happy that I was pregnant and at the same time very sad for my 2 beauties Maddie and Aidy whose lives would be disrupted and changed with the birth of this newest little one! I was happy and sad for many reasons. ( Luckily I could blame my crying on the hormones)!
By this point the girls came into the bathroom to see what was going on. Seeing their mama crying made them really worried. But dadda told them the news and told them that mama was happy. I hugged them both and then we prayed as a family to thank God for this amazing news!
We were going to soon be a family of 5! WOW!
Stay tuned for more about...
my new morning sickness findings
doctors vs midwives
the ultra sound (pictures to follow soon!!!)
Click here to go to the Pregnancy and Baby Boutique Homepage